Future Cars
The INEOS Grenadier SUV Is on Tour—Just to Remind You It's Still Coming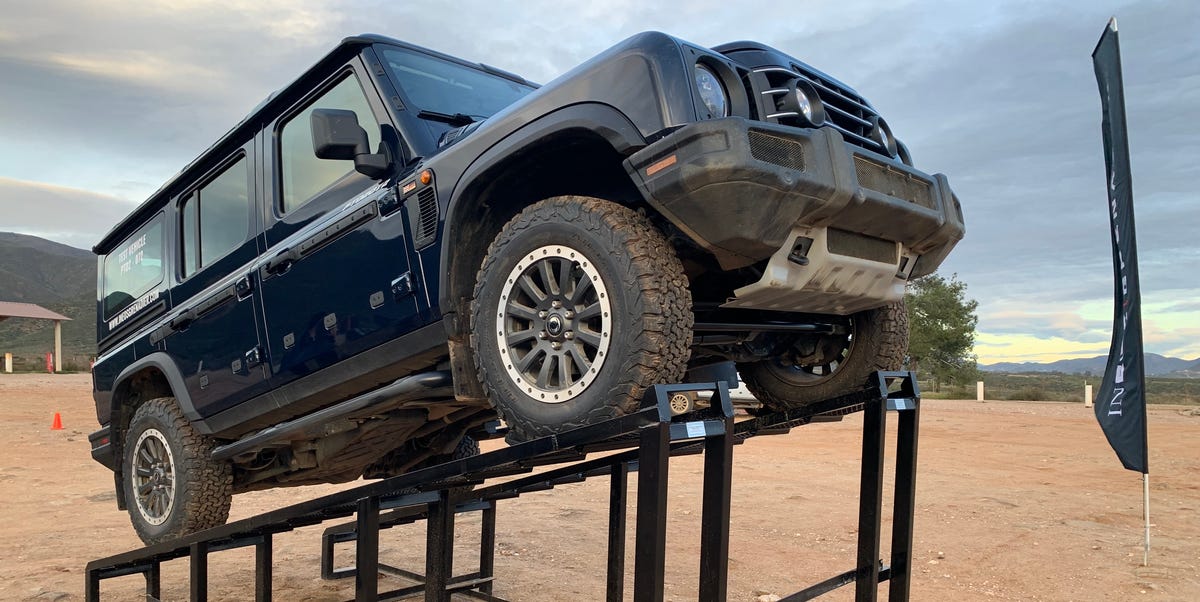 INEOS Grenadier deliveries are already taking place in Europe and other markets, but we won't start getting ours until the end of the year.
So INEOS is holding these tours to remind customers the SUV is coming and to show them that it's fun to drive.
No prices yet, but the Grenadier comported itself well off-road.
---
If you are one of 7500 INEOS Grenadier deposit-makers in North America, you may have already taken your lap in the coming brute ute. Or you may be on the schedule to get a drive in one soon. INEOS is on tour in North America with 20 pre-production Grenadiers across the continent and is letting buyers take a lap off-road in one so they don't forget they made that $450 deposit or, heaven forbid, forget about it altogether and buy something else. Grenadier deliveries won't start here until near the end of the year, after all.
"This is really the first time that we actually give our reservation holders the opportunity to come out and get behind the wheel," said Greg Clark, INEOS Automotive Executive VP, Americas. "We're doing 18 stops around the US and Canada. We have just over 20 of these vehicles in the US at the moment that are currently split into two fleets, one of which is moving up the West Coast: Arizona, Colorado, and up into Canada. The other is on the East Coast doing pretty much the same thing. We parachute in for two or three days at a time and try and get as many of our reservation holders through and give them the opportunity to drive a vehicle."
I was not a reservation holder but I got to drive one, for maybe a mile, up and down some steepish trails at Rowher Flats OHV area in the mountains between LA and the Mojave Desert.
Wait, you do know about the INEOS Grenadier, don't you? We've only done a disproportionate 14 million or so articles on it, including a drive report last month straight out of the UK. Yes, the UK, where this whole idea was hatched. As with all the best ideas, this one occurred after a few drinks in a pub called The Grenadier.
A British billionaire ($28 billion as of 2020, according to Bloomberg) named Sir James Ratcliffe and some "mates" were sitting around bemoaning the loss of the Land Rover Defender, which passed into the void in 2016. Ratcliffe drew—not on a napkin, because that's what we do here in America, but on a beer coaster—the design for the vehicle you see slathered over this page here.
The official version of the founding of the vehicle is a little more heroic.
"Jim is an explorer," said Clark, whose checks are signed by Ratcliffe. "He is a lover of all things off-road and has used these things extensively in some pretty extreme situations. He couldn't really see the vehicle on the marketplace that he wanted to buy and to use in various places around the world, so he decided that he was going to diversify into automotive and build a vehicle."
They all toasted with warm beer—or maybe it was gin and tonics, the details are lost to history—and put the plan in motion. If you have a few billion dollars and some organizational acumen, things get done. Seven years later, there we were in Rowher Flats.
Now, I know what you're thinking—the problem with rich guys believing they can build their own cars because, "How hard can it be? I'm clearly a genius and you will all do my bidding and where's the problem?" is that there are 30,000 parts in every car, truck, or SUV, and you have to build or source all 30,000 of them.
Not only that, the parts have to fit together, and the car has to go forward for 150,000 miles before a major failure. And there can't be any squeaks or rattles. And nothing can fall off. We've seen this before: the Mosler Consulier, Saleen S7, and Shelby Series 1 were maybe 70-80% done and never got beyond that.
Yet here is the INEOS Grenadier, and it all fits together. The car moves forward and, on our one-mile loop through the dirt, nothing fell off. That is progress. Ratcliffe got a good deal from Mercedes on a smart car factory they weren't using in France, but refitting the plant to make Grenadiers cost him half a billion euros. Yes, half a billion. Lord knows how much he spent on R&D. He recently told Autocar the whole project has so far cost him $1.5 billion. But the factory is up and running now and is spitting out Grenadiers for customers outside the US.
When will we see ours?
"So the rest of the world is taking delivery of their Grenadiers now, and we'll launch (in the US and Canada) sometime around quarter four of this year," said Clark. "This is where we're standing now as part of the ongoing engagement process to make sure that we're keeping and retaining as many of those reservation holders as we can, and making sure that we can then convert those guys into orders, pending them being happy with what they see and experience in these kinds of events."
Would they be happy with their Grenadiers? I got to crawl inside one and find out.
The Grenadier is a solid body-on-frame construction, "built primarily to be exceptionally capable off road," said Clark. "We've taken really the fundamentals of off-roading in terms of the mechanical fundamentals and turn them up to 11."
At 11 you get solid axles front and rear held up by coil springs with a five-link setup at all four wheels. Unlike competitors, there is no air-spring option, the better for long-term durability, INEOS says. Our borrowed Grenadier Trailmaster trim came with locking front, center, and rear differentials, a raised air intake, vinyl and cloth seats, and interior flooring meant to be cleaned out with a hose.
For many of the major components, INEOS enlisted major suppliers, thank goodness. The engine is BMW's tried-and-true 3.0-liter turbocharged straight-six making 282 hp at 4750 rpm and 332 lb-ft of torque from 1750 to 4000 rpm. It's mated to a ZF eight-speed automatic. With a curb weight listed at 6000 pounds, that's all good for 0-62 mph in 8.3 seconds, according to INEOS.
Off we set, up and down some of Rowher Flats' delightful dirt. With an approach angle of 35.5 degrees and a departure angle of 36.1, we were able to go into and out of various steep desert washes with ease. On the way down we set the hill descent control to whatever speed we wanted, then just crept away.
Never heard so much as a scrape on the undercarriage, which rides at 10.4 inches above the dirt. Creeping up and out of the gullies was easy, with throttle tuning just right and with the BMW engine reportedly tuned for low-end torque instead of high-speed autobahn blasting.
There were grab handles aplenty inside to reassure anxious passengers, and there were cool, airplane-style switches in an overhead console as if this was a Concorde. Most of those overhead switches were pre-wired for outside lights and accessories you may want to add to your Grenadier.
Suspension travel was perfect for the moderate creepy crawling our short caravan did. Head-whacking side-to-side motion was at a minimum. My brief drive convinced me, or encouraged me to think, that this would be as comfortable a conveyance inside Rowher's confines as it would on the freeway. But that's just an assumption. None of us was allowed onto the paved world.
One thing INEOS is not releasing is price, not even a ballpark figure. But I could tell you the European models go for between $67,000 and $84,000, with a sticker of $70,000 for what may be the most popular model, though that's just a guess.
How does that compare to other similar vehicles a buyer may take up if the wait till the end of the year proves too long? The Mercedes G 550 Geländewagen starts at $139,900 with 416 hp and 450 lb-ft and covers the Grenadier within an inch or two in most measurements. The AMG version of the G-Wagon starts at $179 grand but gives you 577 hp.
The current Land Rover Defender 130 (yes, the Defender, impetus for this whole shebang to begin with, is back), is four inches longer in wheelbase, 20 inches longer overall, offers 395 hp, and stickers starting at $86,175. Or you could just get a Jeep Wrangler Unlimited Rubicon, which is also longer, wider and 1200 pounds lighter than the Grenadier, starting at $35,640.
At some point we'll drive it further on US roads and offer you more insight. For now, try and get into one of those demo rides in the dirt. They're fun, and the INEOS is going to be a unique vehicle wherever you take it.
Is the INEOS Grenadier really cool or just another big, (probably) expensive SUV that we don't need? Please comment below.