Future Cars
The Ford Mustang Super Cobra Jet 1800 Is an EV Missile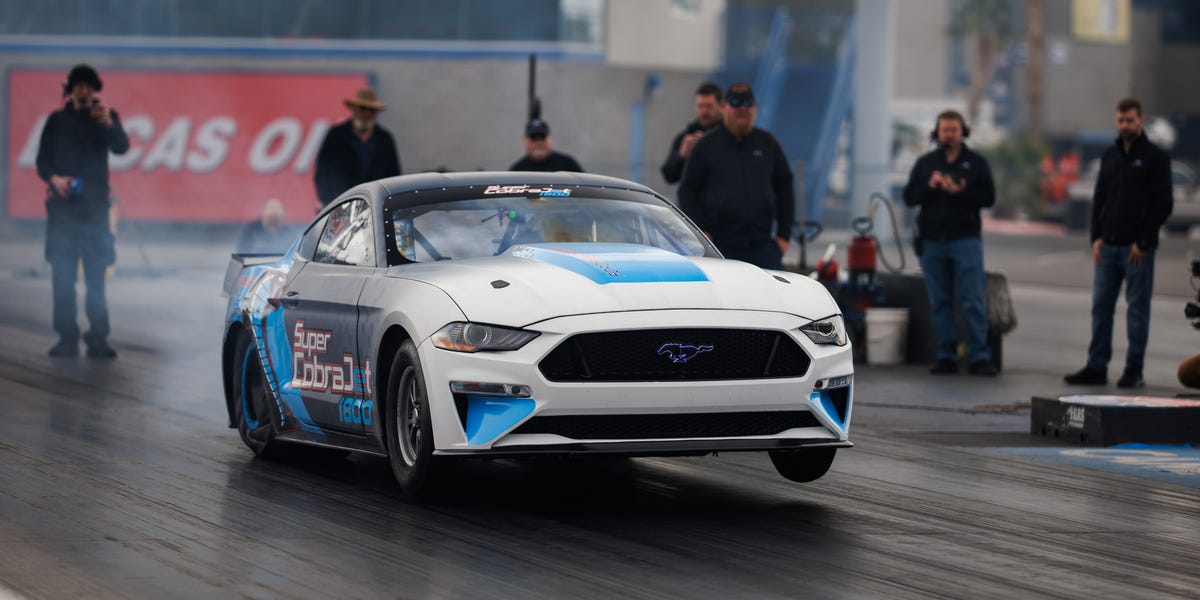 The Ford Mustang Super Cobra Jet 1800 is an evolution of the Super Cobra Jet 1400, which shows off the possibility of a battery-electric super stock style race car.

This dedicated drag racer sticks with the same powertrain as its predecessor but adds a new transmission system from Liberty.
The Mustang Super Cobra Jet 1800 is trying to best the Cobra Jet 1400's 8.128-second quarter mile.
---
Ford's Mustang Cobra Jet 1400 showed off how potent an EV can be when you throw enough parts at it. Convinced there's room for improvement, Ford has taken its battery-electric hot rod back to the workshop to squeeze more out of its electric powertrain.
While this Mustang does carry the same system of inverters and motors as its previous iteration, the Super Cobra Jet 1800 adds some letters and numbers to its name, as well as a new transmission, a revised battery system, and some chassis upgrades. All in, this pony is on pace to best its predecessor and take down some records.
If you missed this Mustang's first life as the Cobra Jet 1400, let's get you up to speed. The Cobra Jet 1800 carries the same four inverters and dual-motor system. According to Ford, these four PN-Z50-DZR inverters and the stacked DS-250-115 motors now connect to a new transmission, which is where the company expects to make some gains.
These motors are fed by a lighter weight battery system than the previous battery-electric Cobra Jet, which should further Ford's efforts. Responsible for controlling the whole system is proprietary Ford software that's run on AEM-EV hardware.
This power travels to the new Mickey Thompson drag radials through a revised rear end. Ford says the suspension geometry was also revised, to help better push the power to the ground, and this electric pony forward.
The reason for all these upgrades? To go quicker, of course. Ford plans to best its Cobra Jet 1400's 8.128 ET and 171.97 mph top speed in the quarter mile. Ford also wants its modified Mustang to be the quickest EV to 60 mph and the quickest two-wheel-drive EV to 60 mph. These targets seem squarely in line with this BEV super stocker.
Ford says it will try breaking these records at an NHRA event later this year, which means you might be in the seats to watch it happen. Though, the company hasn't made it clear at which event this BEV Mustang will make an appearance.
Do you think there's a place in sanctioned drag racing for electric vehicles? Tell us your thoughts below.