Future Cars
The 2025 Polestar 4 Embraces Modernity and Aerodynamics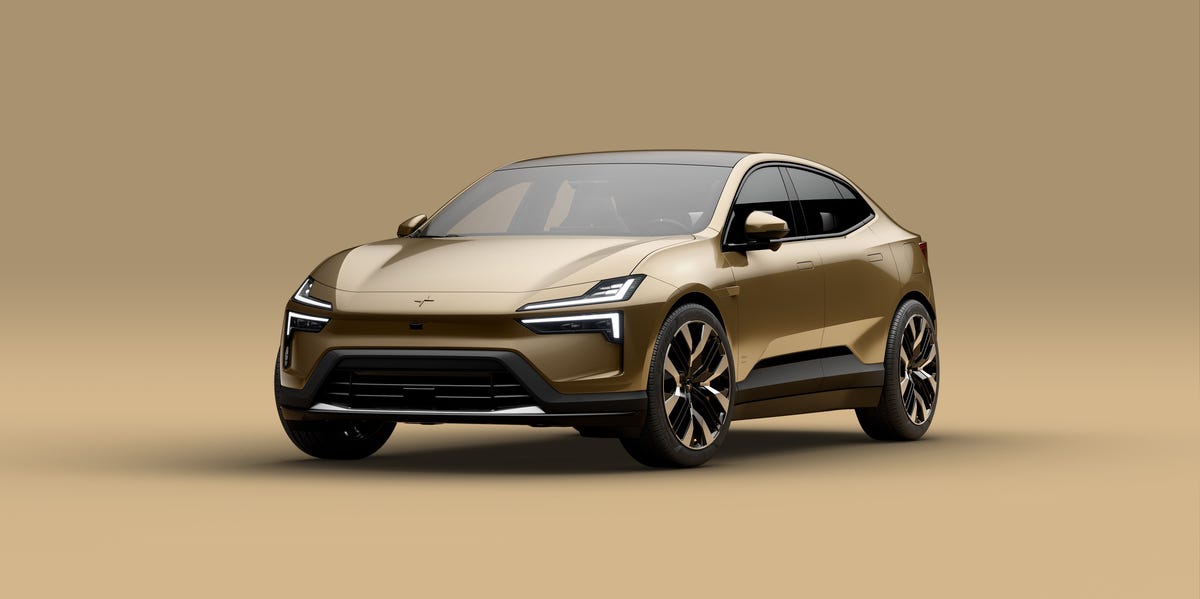 Polestar launched its second SUV and crossover offering at the 2023 Shanghai Auto Show, known as the Polestar 4.
Built on Geely's SEA-platform, the Polestar 4 will be a midsize crossover with 272 hp-544hp and 372-348 miles of estimated range.
North American deliveries are slated to begin in 2024 at the cost of $60,000, though a future production shift to South Carolina could ultimately lower the price.
---
After a slightly confusing inception, Polestar has finally gained momentum and is cranking out new models regularly. With its first three-row, full-size SUV, the Polestar 3, revealed late last year, the Swedish company is now doubling down on the popular segment. Showing its electric prowess at the 2023 Shanghai Auto Show, Polestar has confirmed its next model will be a $60,000, slick-back performance crossover, known as the 2025 Polestar 4.
Built on the Sustainable Experience Architecture platform, the Polestar 4 will be a midsize crossover with an extended wheelbase, sharing a platform with the incoming Lotus Eletre. With a 118-inch wheelbase, the Polestar 4 will be similar to full-size SUVs like the Volvo EX90, though its ride height will be closer to a traditional wagon. The company says this market segment and specific shape was created primarily to add a larger, more roomy model for prospective Polestar customers who aren't quite sold on the full-size Polestar 3.
The Polestar 4 will be available in a single-motor (rear-wheel drive) and dual-motor (all-wheel drive) configuration. Both versions feature permanent magnet, synchronous electric motors, and a 102-kWh battery. However, to split the difference between performance and range, dual-motor versions make 544 hp and 506 lb-ft of torque while providing a WLTP estimated 348 miles of range, while the single-motor variant is rated at 272 hp and 253 lb-ft of torque, with a WLTP estimated 372 miles of range.
These range numbers will likely be slashed by the Environmental Protection Agency, lowering the dual-motor range closer to 300 miles and the single-motor range to 320 miles. Despite this, all versions of the Polestar 4 will feature a 200-kW DC charging capacity and 22-kW AC charging speeds. Bi-directional charging will also be included, in addition to vehicle-to-load capability, allowing customers to draw power from the Polestar 4. The company has included a heat pump in all models to ensure optimized charging times and consistent performance numbers.
The driving experience will likely be similar to previous Polestar models, though the dual-motor version will be Polestar's fastest model yet. And it will feature a range and performance driving mode, with the power delivery tuned for hypermiling or all-out performance depending on the setting. Polestar is also slated to produce its low-riding, four-door performance hatchback, the Polestar 5, on this platform.
Performance wasn't the only goal for the Polestar 4 development. It's uniquely shaped, has a few quirks, and all exterior touchpoints were designed with aerodynamics in mind, meaning that retractable door handles and frameless windows are standard. Additionally, due to the full-length glass roof, the rear window has been deleted, as Polestar opted for camera-based rear-view sight. Inside the Polestar 4, you'll find a 15.4-inch landscape-oriented screen with Android Automotive OS and a 12-speaker Harman Kardon audio system as well.
Beyond subtle, Scandinavian style, Polestar generally touts sustainability, as the company eventually plans to produce a completely carbon-neutral car. The Polestar 4 is not that model, however, it does feature greater supply chain transparency. Specifically, Polestar will trace its battery risk materials and will publish a full lifecycle assessment as the model goes into production. The interior is also built with a mono-material approach, where all interior components use the same base material, primarily a 100% recycled PET-tailored knit textile in this case.
Advanced driver-assistance systems were another priority during development. With 12 cameras, one radar, and twelve ultrasonic sensors, the model will be paired with a SuperVision Advanced Driver-Assistance System from Mobileye. A driver monitoring camera and hands-on detection are new in the Polestar 4, though both are used for active monitoring, not data recording. Polestar's Pilot Assist semi-autonomous Level 2 system will be optional as well.
North American markets won't get the Polestar 4 until 2024, though it is set for China in November of this year. Initially, the Polestar 4 will be produced at the Geely-owned production facility in Hangzhou Bay, China, though Reuters reporting suggests Polestar is planning to launch North American production lines in South Carolina shortly. If Polestar wants to get a fair fight in the US market, this move will certainly help its model remain affordable.
Is Polestar getting ahead of Volvo in launching a midsize EV crossover? Why or why not? Please share your thoughts below.