Future Cars
The 2024 Hyundai Sonata Is the Best Looking Sonata Ever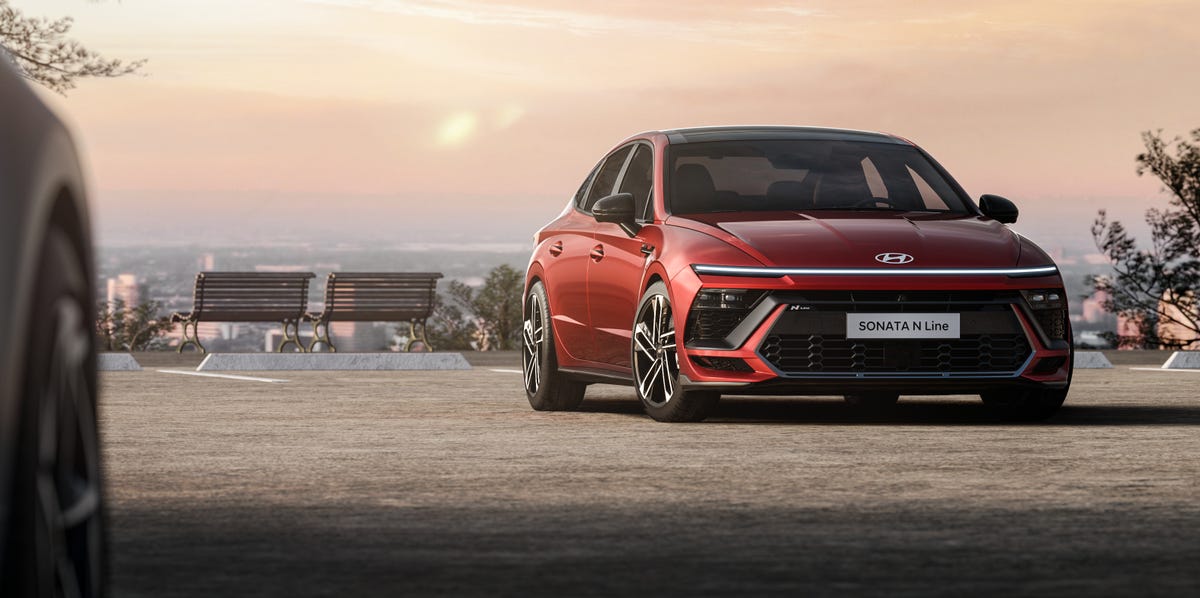 Hyundai reveals the styling of the 2024 Sonata before its official debut at the Seoul Mobility Show later this month.
The '24 Sonata gets a pair of 12.3-inch displays in the cabin and an electronic column shifter.
Hyundai calls the expansive light bar at the front of the Sonata the Seamless Horizon Lamp.
---
Hyundai has come a long way since it pushed an advertising campaign around the Hyundai Excel where you could buy two cars for the price of one. Now solidly in the mainstream, Hyundai is making an argument to keep entry-level sedans relevant with the '24 Hyundai Sonata.
Scheduled to fully debut at the Seoul Mobility Show in Korea, the folks at Hyundai showed off the refreshed Sonata's interior and exterior styling ahead of the reveal.
As you can see, the '24 Sonata gets serious restyling inside and out, and the wholly revised front is more minimalist than that of the existing model.
The new fascia features a full-length light bar that Hyundai calls the Seamless Horizon Lamp, which sits above the headlamps, which are tucked away. The Sonata's new grille adopts a more geometric shape than the outgoing model.
Lukewarm sales for the Sonata probably explain why this eighth-generation model, which launched in 2019, is getting an extensive facelift. In 2022, Hyundai sold a mere 55,000 Sonatas in the US, lagging way behind the Toyota Camry (295,000 deliveries), Honda Accord (155,000), and Nissan Altima (140,000) in a dwindling midsize car segment that was down 10% from 2021 sales levels. The Sonata's smaller sibling, the Elantra sedan, sold much better last year (nearly 120,000 units), challenging the Honda Civic for second place in its segment, according to Wards Intelligence data.
At the rear of the Sonata, Hyundai emulated the front's light bar treatment with an expansive rear lighting array. Dubbed H-lights by Hyundai, this light bar ties together the taillights flanking the back end.
Inside, the team at Hyundai adopted the massive screens you've seen on the Ioniq line for use in the Sonata. The sedan sports a 12.3-inch digital instrument display in front of the driver, to the left of the similarly sized media touchscreen.
And while the previous Sonata employed a push-button gear shifter in the center console, the new sedan pivots to a column shifter similar to what you'd see in the Ioniq 6.
There are no details on available powertrains, but that will likely be cleared up when the car makes its official debut in Seoul later this month. This isn't a generational shift for the Sonata, so the powertrains will likely carry over from the current models.
What do you think of the new Sonata's styling? Tells us your thoughts below.