Future Cars
The 2024 Hyundai Kona Shows US Specs at New York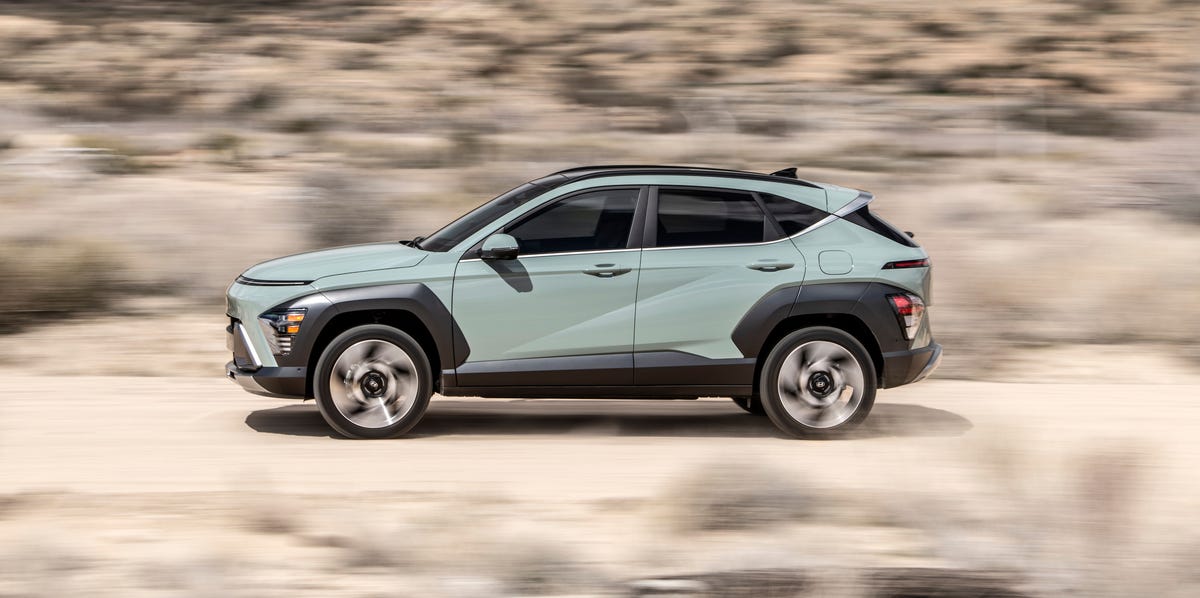 The 2024 Hyundai Kona Electric offers two batteries and two motor options but only drives two wheels.
The internal-combustion '24 Kona features a turbocharged 1.6-liter I4 or an Atkinson cycle 2.0-liter four.
Hyundai says the standard Kona will go on sale this summer, with the Kona Electric slated for fall.
---
Hyundai unveiled the '24 Kona late last year, which showed its dedication to the battery-electric variant. While we knew what the Kona would look like, Hyundai wasn't clear about what powertrains or models would make their way to the United States. At this year's New York International Auto Show, those questions have been answered.
Hyundai says it developed the Kona as a BEV first, before adapting it to handle the needs of internal combustion. The '24 Kona Electric sports either a 48.6-kWh battery or a 64.8-kWh battery. According to Hyundai, this larger battery can feed the Kona's single electric motor for 260 miles.
The upsize battery also feeds a larger 201-hp electric motor. Hyundai hasn't yet estimated the 48.6-kWh battery's range but does note it features a less powerful 133-hp motor. Taking full advantage of the Kona's 400-volt electrical architecture, Hyundai says you can charge from 10% to 80% full in 43 minutes.
On the internal-combustion side, the Hyundai Kona will come with a 1.6-liter turbocharged I4 that makes 190 hp and 195 lb-ft of torque or a 2.0-liter Atkinson cycle I4 that generates 147 hp and 132 lb-ft. While the 1.6-liter engine is paired with an eight-speed automatic, the 2.0-liter engine is paired with what Hyundai calls its Intelligent Variable Transmission, a CVT.
Noticeably absent is the 2.0-liter engine that shines under the Kona N badge, as well as a hybrid option. Unlike the electric version, the regular '24 Kona will be available in front-wheel or all-wheel drive.
Regardless of how your Kona is powered, it will have a new interior. The '24 Kona sports a pair of 12.3-inch screens that handle the infotainment and instrumentation needs. These bigger screens help push the Kona into the growing screen wars, and build off what the company has learned from using similar screens in its Ioniq products. Hyundai also notes it made more space for rear passengers by carving out the front-row seat backs.
Hyundai says the regular Kona will hit dealers this summer, with the Kona Electric arriving in the fall. Pricing for both, as well as official EPA ratings, are still to be determined. Though, it's probably safe to say the Kona's base price will rise from the current $23,285.
Do you think the Hyundai Kona N will make a comeback? Tell us your thoughts below.