Future Cars
The 2024 BMW XM Label Red Is a 738-HP Hybrid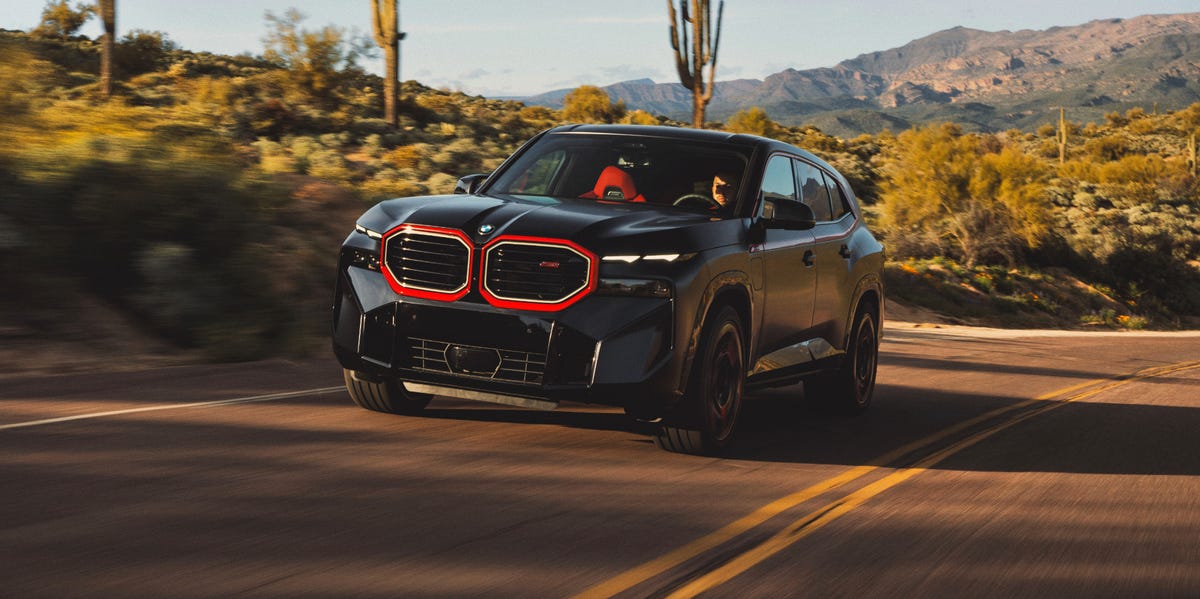 The BMW XM Label Red is slated to start production in August 2023.
BMW will debut the XM Label Red at the Auto Shanghai international motor show this month.
Powering this gasoline-electric hybrid is a 577 hp 4.4-liter V8 that works with an electric motor integrated into the eight-speed automatic transmission.
---
Everyone knows that BMW's plug-in hybrid XM is already a lot. The large crossover has a ton of power, luxurious appointments and a hefty price tag. As you'd expect, the folks at BMW aren't settling on a base-model XM but instead will roll out the 2024 BMW XM Label Red, which cranks up the performance to another level. The XM Label Red will send 738 hp and 738 lb-ft of torque to the wheels with both the 4.4-liter V8 and an electric motor that's integrated into the XM's eight-speed automatic transmission.
By itself, the gasoline-burning 4.4-liter turbocharged V8 makes 577 hp at 5600 RPM. This is nearly 100 hp more than the standard XM's mill, which makes 483 hp. BMW says the 4.4-liter's peak torque is now 553 lb-ft, also up from the standard XM's 479 lb-ft. While the internal-combustion specs are different, the electric motor boasts the same performance specs as the standard XM. That means the transmission's integrated electric motor adds 194 hp and 206 lb-ft of torque to the V8's numbers to make the combined 738 hp and 738 lb-ft of torque.
Feeding that electric motor is, naturally, a battery that is baked into the XM Label Red's underbody and boasts 19.2-kWh of net energy content. According to BMW, this XM Label Red can hit 87 mph with just the electric motor and travel for 30 miles on just the battery. Of course, you probably won't hit that battery-only range at 87 mph. Charging the battery is a 7.4-kW charging system, which tops off the battery in about three hours. BMW stuffed the charging cable in a weekender bag placed in the cargo area.
This powertrain works with the all-wheel-drive system to push this BMW XM to 60 mph in an estimated 3.7 seconds. Adding the optional M Driver's Package enables a top speed of 175 mph, which is 7 mph more than the standard XM.
BMW says this hopped-up XM will join the Spartanburg, South Carolina, assembly line this August. Pricing is still to be determined and will become available closer to the vehicle's launch, but it's going to be more expensive than the current BMW XM's base price of $159,995 before you add any options. That means seeing this XM Label Red model hit $180,000 wouldn't be too surprising.
Do you think this Label Red will help folks appreciate the XM? Tell us your thoughts below.