Future Cars
The 2024 BMW M3 CS Is Your 543-HP Super Sedan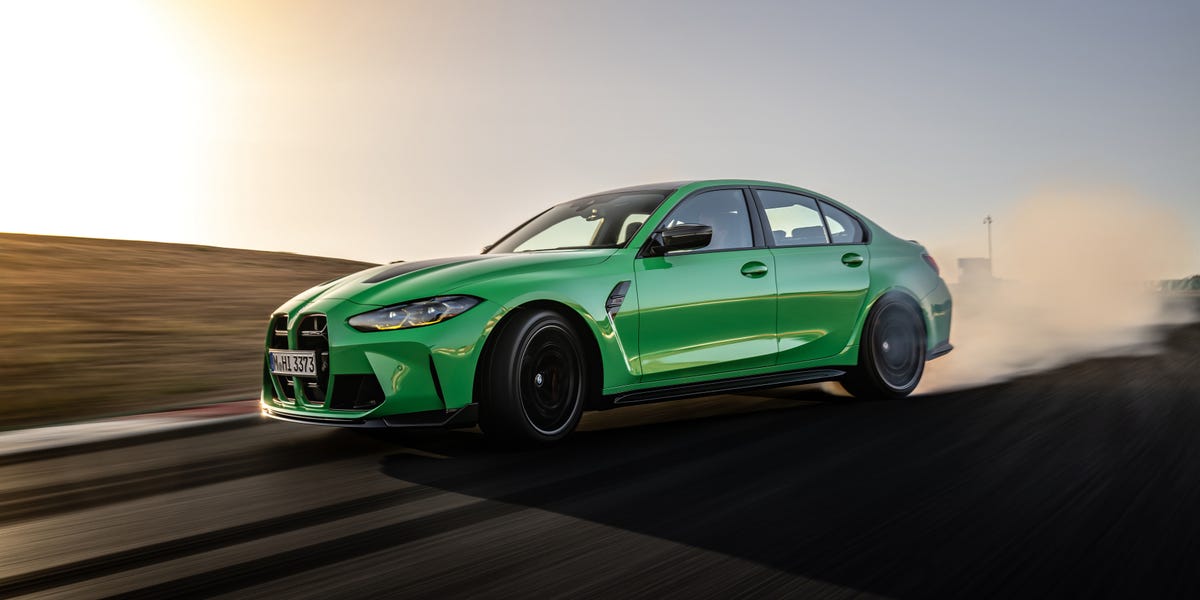 The 2024 BMW M3 CS sports the 3.0-liter S58 six-cylinder under hood, which makes 543 hp and 479 lb-ft of torque.
The BMW M3 CS starts production in March and will set you back at least $119,695 when it goes on sale later this year.
The super sedan shaves 75 pounds off the standard M3 Competition xDrive.
---
Like clockwork, the BMW M3 gets more potent as its generation gets older. Based on the all-wheel-drive M3 Competition xDrive, the 2024 BMW M3 CS cranks up the power, sheds weight, and feeds all four wheels. This limited-edition missile from Munich adds to the mix more carbon fiber, unique chassis tuning, and a small bump in power to make the M3 CS even quicker and more fun.
Under the hood of this CS model is an updated S58 3.0-liter turbocharged straight-six, which makes 543 hp and 479 lb-ft of torque. That power travels exclusively through an eight-speed automatic transmission before hitting the aforementioned xDrive all-wheel-drive system. Power then travels to the tires, which help claw this M3 CS to 60 mph in a scant 3.2 seconds before topping out at 188 mph. This is all similar to the BMW M3 Competition, but sees 40 more ponies and increased boost pressure.
BMW's CS models are more than just stickers and extra power. The M3 CS also is lighter inside and out with some extra carbon fiber. The carbon-fiber top panel stays from the standard M3, but the CS model sees carbon fiber in the bucket seats, hood, and rear splitter. Carbon fiber also graces the mirror caps, interior trim, and shift paddles, but we doubt those affect the curb weight very much. BMW also swapped the standard rear silencer with a titanium unit, to shave off an extra eight pounds. Altogether, BMW says its team trimmed about 75 pounds off the M3 Competition to turn it into a CS.
Taking advantage of this extra power and lighter weight, the team at BMW reworked the chassis tuning. Underneath the M3 CS, the company says you'll see unique anti-roll bars and retuned dampers. BMW also equipped the M3 CS with a different camber setting than the standard M3. Like the adjustable dampers, the steering is also specifically tuned to this special M3 model to give the driver more focused control.
Bringing the M3 CS to a halt is a set of standard six-piston front and four-piston rear calipers that are stuffed with M-compound brakes. Those brakes clamp standard iron rotors, but discerning track enthusiasts and collectors can opt for the more expensive carbon-ceramic brakes for an extra charge. The carbon-ceramic brake calipers can be ordered with an optional gold finish, or the standard black or red.
You can opt for this whole package to ride on a set of Michelin Pilot Sport Cup 2s that wrap 19-inch-front and 20-inch-rear wheels for no extra charge. BMW says other high-performance tires are available if you want a less aggressive tire as a standard fit. As for how big these are, let's clear that up now: 275/35ZR19 rubber at the front and 285/30ZR20 wrap the rear wheels. These aren't massive tires, but they obviously give enough traction for the M3 CS to handle its business.
Of course, just making the BMW M3 CS better isn't enough. It also has to have special exterior cues to separate it from the pack. The M3 CS will be available in signal green, Brooklyn grey metallic, and black sapphire metallic. There's also frozen solid white metallic if you want a matte finish. These finishes accent the exposed carbon-fiber roof, mirror caps, and accents on the hood. Alongside the special finishes, the CS sports a frameless grille and special badging.
On the inside, the M3 CS sports a 12.3-inch iDrive infotainment screen, which butts right next to the 14.9-inch gauge cluster. While infotainment systems are a necessary evil for a sport sedan like this, there is something worth noting: a lap timer. BMW is bundling its M Drift Analyzer and M Lap Timer into the infotainment system to help you keep track of, well, your drifts and your lap times.
This M3 CS won't be the most affordable BMW at your local dealership. The special-edition M3 will set you back at least $119,695 when it hits showrooms later this year, after production kicks off in March. That means you might want to get ahold of your local BMW rep to jump in line if you want to get your hands on one of these M3 CS sedans before they're all sold.
Do you think this M3 CS lives up to the name's legacy? Tell us your thoughts below.