Future Cars
Report Finds Full-Size Trucks 'Underweight' in Future Launches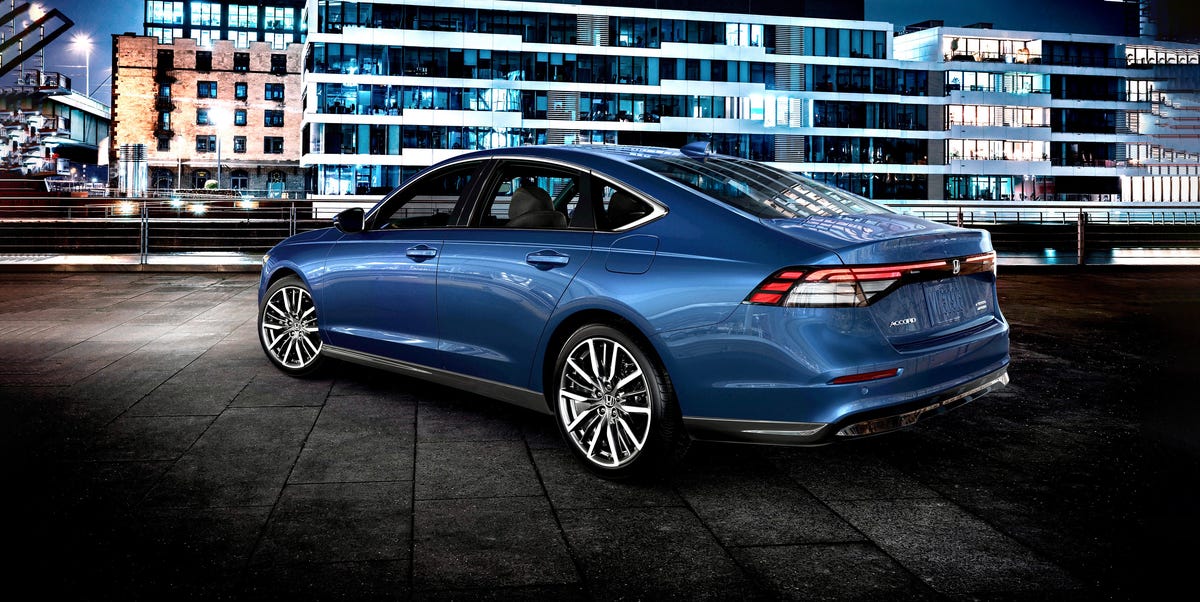 Car Wars report from Bank of America provides insight on what major automakers are planning through 2027. By then, replacement rates for major facelifts or full redesigns will "strengthen," with new models arriving.
The report finds Ford and Hyundai-Kia well positioned, and all automakers continuing to focus on crossovers and SUVs, which will make up 51% of new models in coming years.

BoA sees Honda laying low with upcoming vehicle launches, largely because much of its portfolio (including 2023 Accord, above) is fresh as of this year.
---
You read Autoweek to get a head-start on the cars and trucks you'll be dreaming about, or perhaps purchasing in the next couple of years. Bank of America follows enthusiast outlets like Autoweek as well as trade publications and visits auto shows and consults with industry contacts, supply chains, and secondary sources to find out which cars and trucks will be driving automaker stocks up and down over the next couple of years.
BofA publishes an annual report on its findings called Car Wars. Led by Wall Street analyst John Murphy, the bank's Global Auto Research Team offers a considered look at which brands are going to lead the industry with the "newest showroom" in coming years, which means those automakers are updating their volume models faster than the competition.
Whether you are an investor or an enthusiast, you might look at Car Wars with a jaundiced eye. In 2015, Car Wars, then published by Merrill Lynch, predicted 20-million US light vehicle sales by 2018, two years before the pandemic assured that number would not happen for many years. But the report, unveiled last week before the Automotive Press Association in Detroit, provides insight on what major automakers are planning through the 2027 model year.
Replacement rates—the portion of an automaker's portfolio that gets a major facelift or full redesign in a model year—is near the historic average of 15%, for model years 2024 and 2025, but "strengthen" for MY 26-27 when several high-volume models launch.
Yes, automakers continue focusing on crossover-utility vehicles, which will make up 51% of new models, with small/midsize/large luxury CUVs represent 22% of this turnover. Maybe more surprising is that large trucks are what Murphy and his BofA crew call "underweight," at 26%.
As for specific companies, "Ford and Hyundai/Kia appear best positioned, while Stellantis and Honda appear worst positioned. Many incumbent [original equipment manufacturers] marginally lag the average, which is skewed higher by smaller entrants." Those smaller entrants include new EV-only brands like Lucid, Rivian, and Fisker.
Stellantis, whose EV strategy "appears to be evolving," is among those at the bottom of the replacement-rate barrel, while General Motors is about average, Car Wars reports. Japanese brands are most volatile, with Toyota at the top of the replacement rate, Nissan in between, and Honda "lagging due to timing of launches."
Of the latter, BofA's report admits Honda's timing problem is that it has just launched newly redesigned versions of its top-selling models. The Accord, CR-V, HR-V, and the fourth-generation Pilot are all-new for MY23, while the Civic was all-new for model year 2022. While sports cars and niche models tend to be popular in their first year or two at best, mainstream models such as these can maintain steady annual sales throughout a lifecycle.
Car Wars reports that European automakers are in the middle of the replacement-rate scale, with Volkswagen out front and BMW and Mercedes-Benz lagging. Luxury models, even the mainstream ones like the BMW 3-Series or Mercedes-Benz E-Class have long been on seven-year product cycles compared with five or even four years for commodity brand models in the same size segments.
Curiously, the report claims that "other OEMs (Tesla, new EV entrants, smaller OEMs) have a replacement rate that leads the industry." Does BofA consider software updates worthy of model "replacement" status?
In an alternative powertrain product pipeline (hybrids and EVs) chart, BofA lists the Tesla Cybertruck launching in model year '25, and the Tesla Roadster and anticipated compact Model 2 coming in the following year.
Other key EVs on the way, according to Car Wars, include the Buick Electra, Cadillacs Optiq and Symboliq, Jeep Recon, and Dodge Charger Daytona and Dodge Cuda, all coming in the 2025 model year.
Are you paying particular attention to certain automotive brands in this unprecedented industry EV transformation? Please share your thoughts below.

Contributing Editor
As a kid growing up in Metro Milwaukee, Todd Lassa impressed childhood friends with his ability to identify cars on the street by year, make, and model. But when American automakers put an end to yearly sheetmetal changes, Lassa turned his attention toward underpowered British sports cars with built-in oil leaks. After a varied early journalism career, he joined Autoweek, then worked in Motor Trend's and Automobile's Detroit bureaus, before escaping for Mountain Maryland with his wife, three dogs, three sports cars (only one of them British), and three bicycles. Lassa is founding editor of thehustings.news, which has nothing to do with cars.