Future Cars
More Power for Audi RS 6 Avant Performance, RS 7 Sportback Performance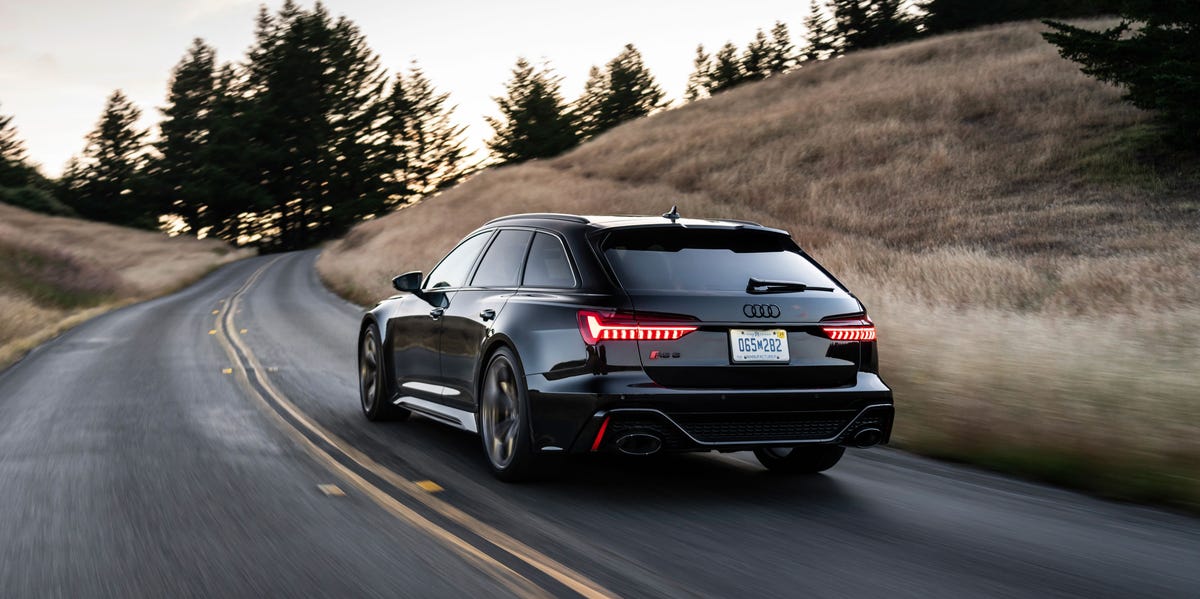 Practical Audi RS 6 Avant Performance and RS 7 Sportback Performance get a whopping 621 horsepower starting this fall.
Weight savings of 62 pounds help power-to-weight for a 0-60 mph time of 3.3 seconds.
Sticker price when they come out this fall starts at $126,895.
---
"Emotionality" has replaced "Dynamism" in the German lexicon. For years German carmakers struggled to express how much fun their products are to drive. There is no "feeling" in Germany, only excellent engineering.
So when they introduce a new car that is more fun to drive, while the engineering has almost always been sorted out nicely, expressing that in words is often a struggle. Not anymore. Now the German engineering favorite "Dynamism" is out. Move over dynamism and make room for the new Deutsche wert du tag: Emotionality.
Ack du Lieber.
That's the word the German engineers kept using to describe the Audi RS 6 Avant Performance and RS 7 Sportback Performance coming this fall. You will know what it means as soon as you take a spin around the block. These practical performance family cars get more power, tighter suspension tuning, and a more precise self-locking differential. The new 22-inch wheels save 44 pounds and help with the handling via lower unsprung weight. Audi even removed 18 pounds of sound insulation so you can hear the engine better. So much emotionality.
With larger impellers on the twin turbos nestled in the valley of the vee, along with optimized engine software, the 4.0-liter V8 now makes 621 horsepower, 30 more than before. Torque is likewise up 37 lb-ft to 627. A 48-volt starter/alternator delivers mild-hybrid capability. That output is sent through a new Torsen self-locking differential, which sends torque to the outside wheel in a corner when wheelslip is detected, instead of a locking diff, which maintains equal torque distribution. This saved weight while increasing driving precision, Audi says.
Outside are trim components in matte grey or, if you're really cool, you can get the Bronze Edition with exterior paint in "Sebring Black crystal effect paint," with all trim pieces also in black—"murdered out," as the kids used to say. That's the one I'd get.
Inside you get a choice of gray, red, or blue colors with carbon twill if you like. And of course, you get the Audi customizable virtual cockpit, centered around a 12.3-inch screen.
When you take a test drive, and you will want to take a test drive, be sure and exit the dealer's parking lot using the launch mode, which is really fun. Zero to 60 mph comes up in just 3.3 seconds, and if your sales professional is still conscious, top speed is a "track-limited" 174 mph.
There are two suspension choices: air suspension with adjustable damping that rises almost an inch and lowers about a half inch; or steel springs with adjustable dampers. Audi's Dynamic Ride Control (DRC) is available as an option on both cars. Audi considers DRC-equipped cars as the sportier of the two. The standard suspension is the sport air suspension with an RS tune.
I got to drive both on some great roads in Northern California. First impressions upon finding a twisty road was that a car this practical shouldn't be this much fun to drive. If it were a little shorter and a little lighter (it's about 5031 pounds depending on trim and options) it'd be among the best-performing rides out there. The steering is more precise than previous and non-RS models, and roll was controlled nicely in either suspension setup.
If it was my money I'd get it without the air suspension, since it's easier to live with and still exceedingly fun to drive. Who tracks a wagon? Well, you might if you got one of these. You can also get ceramic brakes, which, unless you live on top of Pikes Peak, might not be necessary.
If you are looking for alternatives to cross shop, the closest thing you'll get to one of these is the Porsche Panamera Sport Turismo, or maybe the BMW X5 M, but those are different animals. The Avant is, along with the Mercedes-AMG E63 S Wagon, the last of the great performance wagons and the sportback is, perhaps, closer to crossovers like the X5 M but with a lower presentation to the wind.
Drawbacks? Price! Starting sticker on the 2024 RS 6 Avant Performance is $126,895, and on the 2024 RS 7 Sportback Performance it's $128,895. That's right on top of the sticker for the AMG E63 S Wagon, but everyone has a Mercedes. Audi sells half as many vehicles in the US as Mercedes, so you'd have exclusivity going for you with the Audis. Plus, you could be at the forefront of making wagons cool again.
Are wagons cool? Tell us in the comments below.

Mark Vaughn grew up in a Ford family and spent many hours holding a trouble light over a straight-six miraculously fed by a single-barrel carburetor while his father cursed Ford, all its products and everyone who ever worked there. This was his introduction to objective automotive criticism. He started writing for City News Service in Los Angeles, then moved to Europe and became editor of a car magazine called, creatively, Auto. He decided Auto should cover Formula 1, sports prototypes and touring cars—no one stopped him! From there he interviewed with Autoweek at the 1989 Frankfurt motor show and has been with us ever since.