Future Cars
Jeep Dreams Up More Electric Rigs for Serious Off-Roaders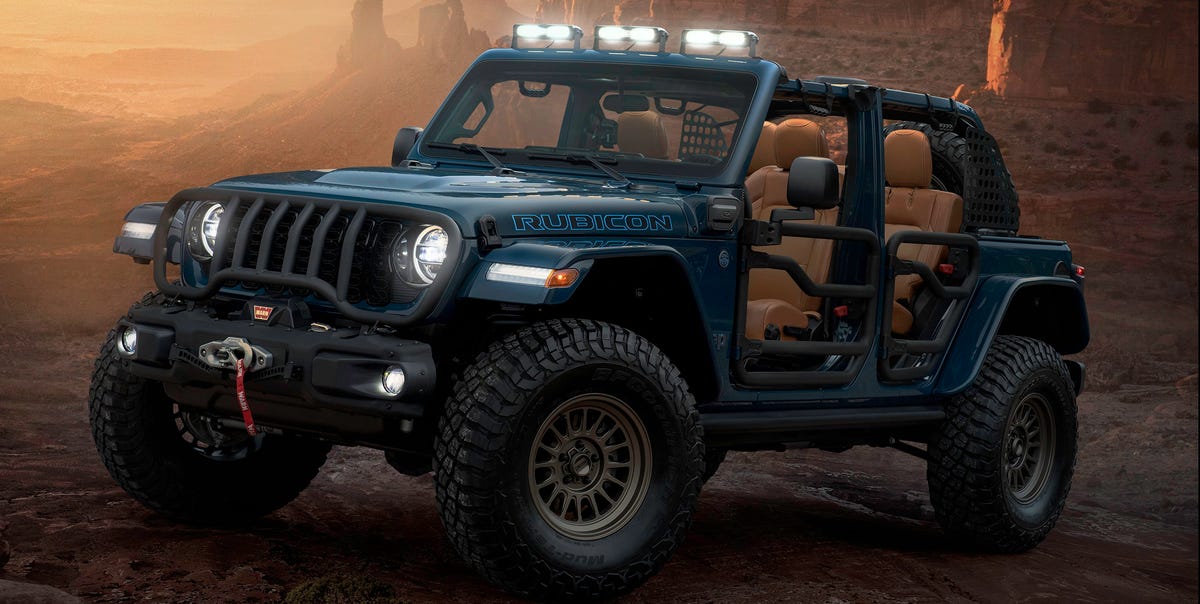 The 2023 round of concepts from Jeep's 57th annual Easter Safari has arrived, and electrification is showing strong this year.
With a multitude of Wrangler 4xe plug-in hybrid concepts as well as a resto-mod, hybrid 1978 Jeep Cherokee, there's an electrified Jeep concept for every generation.
Jeep also hinted at the return of its Scrambler nameplate in two-door form, complete with a 6.4-liter Hemi V8 and adjustable air suspension.
---
For 57 years, Jeep has made sure that its models work as promised at its Easter Safari in Moab, Utah. This year is no different, with rock crawling, hill descents, and blazing across any and all loose surfaces on the agenda. While hard-core off-roading is the main goal of the domestic safari, Jeep also uses this program to test the waters with its most creative concepts, and this year marks a significant shift for the brand.
Of the seven one-off models set for display, four will be electrified, while the other three will rely on internal-combustion power. This is a sharp departure for the Jeep brand, considering it currently offers just two electrified models—the Wrangler 4xe and the Grand Cherokee 4xe. Still, it's clear Jeep knows electrification won't spell the end of rowdy terrain-traversing vehicles.
Arguably, it will be Jeep's Wrangler Magneto 3.0 Concept that will excite drivers about the electric future ahead. With a custom-built axial-flux electric motor that operates up to 6000 rpm, a six-speed manual transmission, and a maximum of 650 hp and 900 lb-ft of torque, the Magneto 3.0 is true to its raw performance heritage. In addition to torque levels sure to excite straight-six Jeep owners, the Magneto 3.0 features two-stage brake regeneration that can be tuned for one-pedal-drive hill descents.
The moving parts of an off-road rig are just as (if not more) important than useable levels of torque, and Jeep went all out on the Magneto 3.0. Dynatrac 60 front axles (5.38:1 ratio), Dynatrac 80 rear axles (5.38:1 ratio), 20-inch off-road beadlock wheels, 40-inch mud terrain tires, and a custom 3-inch lift are all standard, in addition to a customized anti-roll bar and raked windshield. And to signify the model's American heritage, Jeep has added a touch of red to the model's previous Surf Blue and Bright White color scheme.
It's not just current Jeep models that are receiving the electric treatment. One of this year's concepts set to be revealed in Moab is actually a 1978 Jeep Cherokee, though you wouldn't be able to tell by looking at it.
Instead of the original inline-six or V8, Jeep modernized the buggy-style Cherokee build with a set of electric motors, a high-voltage battery pack, a 2.0-liter turbocharged I-4, and a new eight-speed automatic transmission. Outsize 37-inch tires wrapped around custom 17-inch "slotted mag" style wheels make this hybrid resto-mod capable of modern Jeep feats. To keep the vintage vibe while adding some 21st-century safety features, a set of leather bucket seats and a four-point safety cage were also added.
Want a pinkish electrified Wrangler? Jeep has got you covered there too, with its newest Tuscadero-colored model known as the Jeep Wrangler Rubicon 4xe Concept. At its core, the Tuscadero Rubicon 4xe concept is a special colorway of the existing model, but it does get a new seven-slot grille, adjustable AccuAir suspension, and a custom set of 17-inch wheels. Of all the concepts, this one might be the most likely to hit the market, because who wouldn't love a pink Jeep?
Wrapping up Jeep's electrified ideas, the company presented an open-air, four-door Wrangler 4xe, named the Departure. Its drivetrain is largely stock, but the Departure concept rides on 17-by-8.5-inch Vintage Bronze KMC Impact OL wheels, 37-inch BF Goodrich tires, and a JPP 2-inch lift kit with Bilstein performance shock absorbers.
Jeep says the remote reservoirs provide more cooling capacity for increased suspension travel and improve the model's long-term off-road capability. Because of the open-air nature, Jeep put most of the work into its visuals and safety standards, namely around the body structure and lighting.
A set of custom flat-fender flares were designed not only to run larger wheels and tires but also to house removable daytime running lights. Jeep claims these will be the first 50-state legal fender flares with OEM DRL and will also meet 50-state tire coverage requirements.
Jeep-fabricated rock rails are mounted on the side of the Departure to protect each occupant's body from intruding terrain while a set of Molle panels offer mounting points for accessories. Even though this model is decidedly an off-road-only version (given that Pennsylvania is the only state that allows doorless driving), Jeep insisted on keeping amenities like a backup camera and different full-size spare mounting points.
Though Jeep clearly focused on electrified vehicles this year, the ICE variants were exciting in their own way. Specifically, renderings of the Scrambler 392 concept, a re-introduction of the 1981 Jeep Scrambler, comes with dune-buggy styling and a 6.4-liter Hemi V8.
Jeep says this concept was based on a Rubicon chassis and features a newly released AccuAir suspension kit that allows for an adjustable lift ranging from 1.5 inches up to 5.5 inches and custom adjustment on the fly with an in-cab controller or through a long-range Bluetooth device. In spite of the heavy 40-inch tires, most of the body panels are made from carbon fiber, keeping its overall (though undisclosed) weight down.
In true Jeep fashion, two slightly modified versions of its production models, the Grand Wagoneer and Gladiator, were presented as lifestyle-looking but nonetheless capable concepts.
The Grand Wagoneer concept builds on a growing trend of roof-tent, Overlanding expeditions by adding, well, a roof tent and a set of beanbags in the trunk. Perfect for when the driver lights up that new 3.0-liter Hurricane Twin Turbo 510 inline 6-cylinder.
Last but not least, Jeep's Gladiator Rubicon Sideburn Concept is powered by a 3.6-liter Pentastar V-6 and features a JPP/Bilstein 2-inch lift kit and black HRE 17-by-9-inch FT1 six-spoke wheels that ride on 37-by-13-inch BF Goodrich tires. It's a solid package with special light bars, a custom bed with fittings for storage and fuel canisters, as well as a deep, dark, red-brown Vienesse Relicate Nappa leather interior. It's a curious blend of rugged luxury, but it could work for a small but uber-passionate fanbase like Jeep has.
Are electric off-road rigs tough enough for rock-crawling duty? Share your thoughts in the comments below.