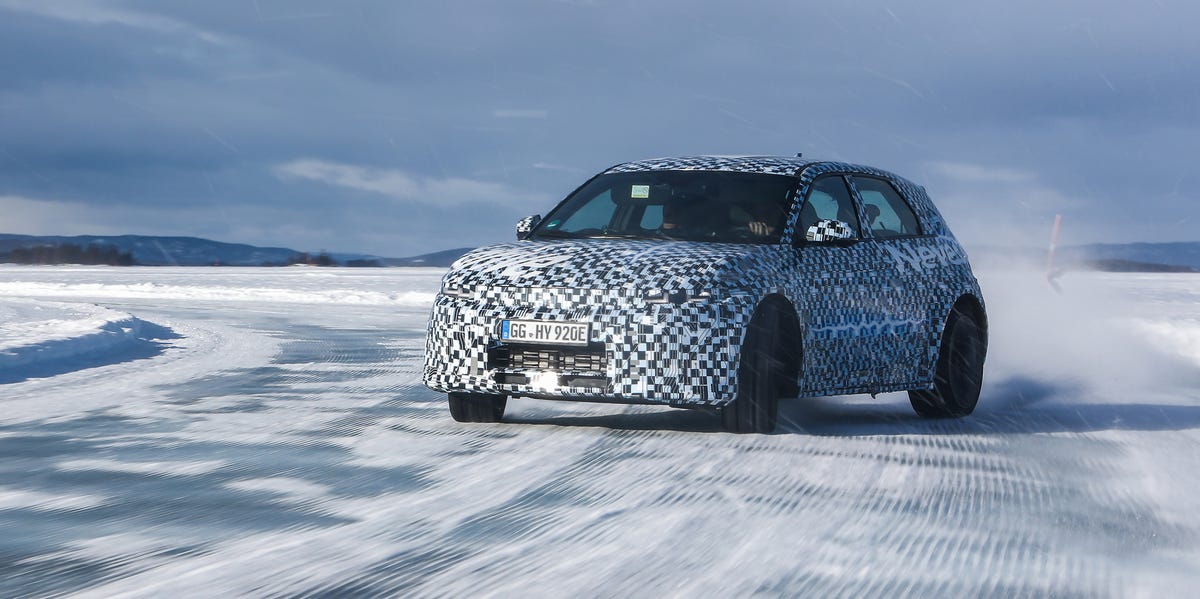 The Hyundai Ioniq 5 will officially get an N version—and a teaser series that shows it off.
The battery-electric Ioniq 5 N is seen with all-wheel drive and the ability to drift on the snow.
Performance details are still to come for the first N BEV.
---
It looks like the folks at Hyundai are taking the Ioniq 5 to the next level. Teased sliding beside the company's WRC machine, the camouflaged Ioniq 5 is shown quietly throwing snow from all four wheels. This Ioniq 5 N will finally blend the N performance division with the company's electrified efforts at the production level and could help the company get a jump start on a production version of the N Vision 74.
As you'd expect from a teaser, Hyundai hasn't revealed too many details about the upcoming Ioniq 5 N. Though, you can look to the likes of the Kia EV6 GT for possible power output.
While the current Ioniq 5 AWD sends 320 hp to the wheels from a pair of electric motors, the Kia EV6 GT cranks the power up to 576 hp. While these aren't exactly twins, both vehicles do ride on a common E-GMP platform.
While specific performance metrics aren't available to the public, we can see that the Ioniq 5 N will allow some wheel slip. In fact, Hyundai is leaning into the wheel slip with a system it calls N Drift Optimizer. This system massages the Ioniq 5 N's torque split, steering, suspension, and differentials to help this BEV drift. This means Hyundai is giving you the tools to skid around as we see in the video above.
The unfortunate reality is that the hilarious 2.0-liter turbocharged I4 can't live in perpetuity under the N Brand's cars, so it makes sense for the company to start looking at ways to expand the N portfolio. Hopefully, this upcoming Ioniq 5 N lives up to the smile-inducing standard set by the current N products, and judging by how it slides around in the snow, there's hope. We'll know more about this Ioniq 5 N, like its power and range, when it debuts this July.
Does it make sense for Hyundai to expand the N brand to battery-electric powertrains? Please share your thoughts below.