Future Cars
BMW's i Vision Dee Can Transport You to Fantasy World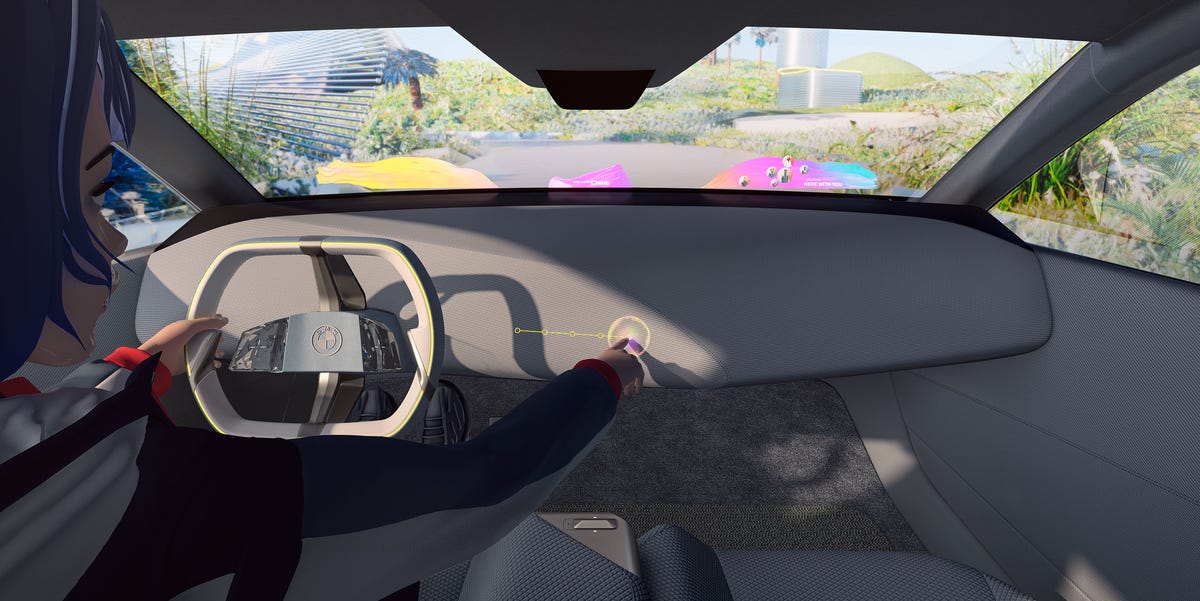 BMW showed off a new, wider, and all-encompassing head-up display at CES, in a concept car called the i Vision Dee. The car can also change exterior colors.
The technology can envelop the driver in whatever fantasy world he or she wants to dive into, with the windshield and side windows projecting imagery to match the chosen environment. How this could be accomplished without Level 4 or 5 autonomy wasn't addressed.
Color-changing technology was first seen on last year's BMW iX Flow concept.

---
BMW's i Vision Dee, revealed today at the Consumer Electronics Show in Las Vegas, is a step off the deep end of virtual driving. Dee stands for Digital Emotional Experience. Not only does it take the idea of a head-up display into a wild, new territory, but it can eventually take you there so completely that you may forget you're stuck in soul-destroying traffic on the 405. You may never leave the car's comfy, augmented-reality confines. It's a little like the holodeck on the Starship Enterprise.
Oh, and it changes colors seemingly at will on the outside. It's a chameleon inside and out.
Or it can be, someday. BMW said some of the tech you see here will be on the brand's next-generation 2025 Neue Klasse electric cars. But the extent to which the Dee's interior technology can take you—projecting the fantasy world of your choice into the cabin—will require autonomous driving capability to be fully deployed. No word yet when the chameleon color-changing exterior may see showrooms.
Never mind the car's really cool Lamborghini Islero proportions. This is not a concept in the sense that it portends a future production car, at least not in exterior form. The Dee is an inner experience. Let's look at that interior first.
While other carmakers, like Mercedes, introduce ever-wider and more expensive display screens that stretch from A-pillar to A-Pillar, BMW accomplishes the same thing in the Dee by simply widening the head-up display in the car, turning the windshield into however much of an infotainment screen you want.
Drivers use something called a "Mixed-Reality Slider" to decide just how much navigation and traffic information they want on the windshield and from there can retreat ever further into their own fantasy world as the once-humble HUD envelops them more completely.
"The BMW Mixed Reality Slider, in combination with the advanced head-up display, is the digital highlight and central operating control of BMW i Vision Dee," the automaker said. "Using shy-tech sensors on the instrument panel, drivers can decide for themselves how much digital content they want to see on the advanced HUD."
The concept car's five-step Slider selection starts with analog and progresses to driving-related information, the communications system, augmented-reality projection, and even virtual worlds, BMW said.
"The car learns how you want to interact—it doesn't tell you how you must interact," an exec told us at a sneak peak in Munich last month. Dee herself "spoke" to us in Munich.
"I want to be more than just a car," Dee said in a soothing voice during our demo in Munich. "I'm your portal to the virtual world, but also back to the real world. Together we will enjoy our drive wherever you want to go. No matter where you are, where you want to be."
Dee just wants to help you. Yes, the two of you will be able to enter virtual worlds, presumably places that don't have traffic, pollution, or road rage. How will that be accomplished?
"In parallel, dimmable windows can also be used to gradually fade out reality," BMW said. "Mixed reality can be experienced in BMW i Vision Dee in an immersive way that engages different senses without requiring any additional tools, creating a new dimension of driving pleasure for the user."
Just one year ago BMW proudly showed off its new Curved Display screen that adorns the cockpits of the best Bimmers today. This isn't that. Nor is it the Digital Art Mode available on that screen.
"In BMW i Vision Dee, projection across the entire width of the windscreen allows information to be displayed on the largest possible surface, which only becomes recognizable as a display once it is activated," BMW explained. "In this way, the BMW Group demonstrates the huge potential of projection technology, and BMW i Vision Dee visualizes how an advanced head-up-display could also be utilized in the future for the display and operating concept."
How soon will we start seeing this stuff on the road?
"The standard-production version of the BMW head-up display extending across the full width of the windscreen will be used in the models of the Neue Klasse from 2025 onwards," BMW said. Another exec told us, "late 2025."
That's inside the Dee. On the outside is a further development of the eINK first seen on last year's iX Flow concept. As you may recall, that was the technology that could change exterior color from black to white. Now, on the Dee, it can change to just about any color you want. How does that work?
"You pretty much have a papery cardboard-like material that is split into three planar layers," said BMW project manager Stella Clarke, when we asked her to explain the technology. "The top layer is an electrode, the bottom layer's also an electrode—they conduct electricity. Between those two is a color-changing layer that's full of transparent capsules that contain black and white (or color) particles, one of which is negatively charged, one of which is positively charged. And when you apply a voltage difference to the top and the bottom planes, then those move accordingly."
Voila—color-changing exterior! When asked if you could take imagery seen from the far side of a car and project it on the near side to essentially create a Romulan cloaking device of invisibility, Clarke said yes, that could be done, and in our lifetimes.
Exactly how much of this cool tech we'll see in 2025 is not clear. Certainly the windshield and side windows can't be turned into alternate reality screens if someone still has to drive the car, and the Dee is not an autonomous car. Almost all driver-assistance systems on the market now are no higher than Level 2, and the human in the driver's seat must keep eyes on the road and hands on the wheel.
Mercedes is slowly releasing a limited Level 3 driving package, but that's only for stop-and-go traffic in limited situations. To retreat into your BMW Fantasy Island would require Level 4 or 5 autonomy, which doesn't look like it'll be ready for the Neu Klasse introduction in two years. Likewise, the exterior color-changing eINK was still in cut-up pieces in the lab we visited, looking a long way from production.
But in the meantime, that Islero-looking exterior should be put into production.
Are you ready to experience a fantasy world inside a vehicle, whether it's stationary or moving? Please comment below.