Future Cars
2024 Lincoln Nautilus Sports a Massive 48-Inch Screen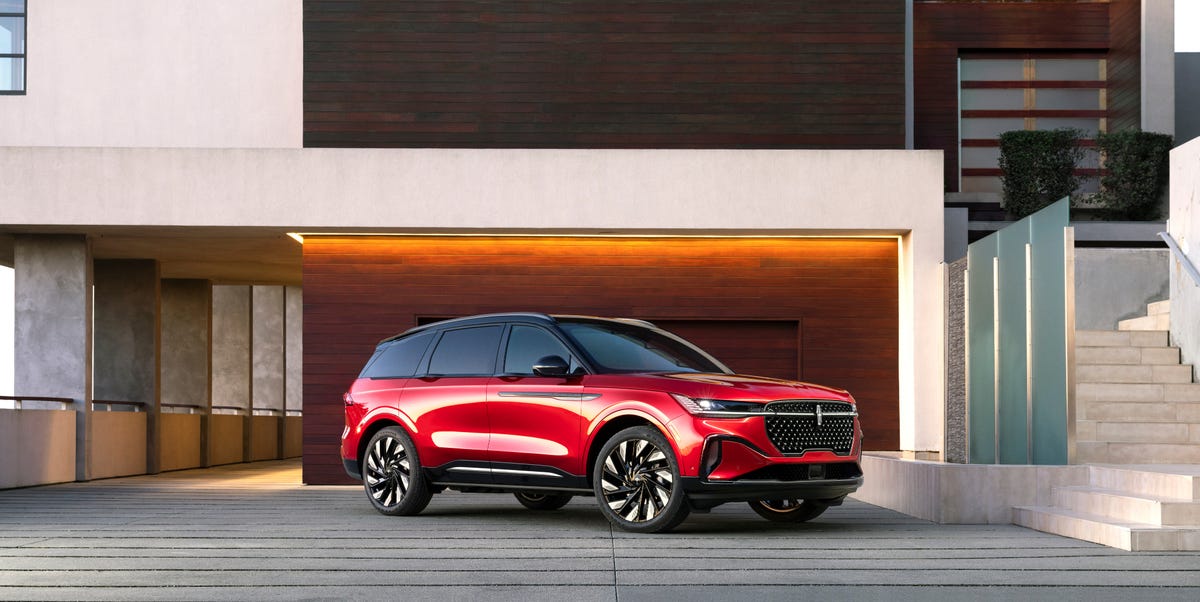 Lincoln's next-generation Nautilus is set to hit Lincoln dealerships early next year.
The next-gen Nautilus comes standard with a 2.0-liter tubrocharged I4 with the optional hybrid powertrain blending a 2.0-liter turbocharged I4 with an electric motor.
The Lincoln Nautilus will be made at Lincoln's Changan Hangzhou assembly plant in China.
---
For 2024, Lincoln is ushering in a new generation for its Nautilus crossover. Originally starting life as the MKX, Lincoln renamed this crossover during its 2019 refresh. Now dubbed Nautilus, this mid-size crossover is getting a heavy injection of tech and style for '24. The next-gen Nautilus sports hybrid and traditional gas-burning powertrains, a massive 48-inch media screen, and an evolution of Ford's hands-free BlueCruise driving system.
Lincoln's standard engine is a turbocharged 2.0-liter I4 that feeds an eight-speed automatic transmission. This base-model powerplant sends 250 hp and 275 lb-ft of torque through that transmission into the standard all-wheel-drive system. Moving up the charts you'll find a hybrid powertrain. This hybrid system also uses a turbocharged 2.0-liter I4 to handle its internal combustion propulsion, but that now feeds into a continuously variable transmission. This CVT also uses a 100-kW electric motor to bring total system output up to 310 hp, which is also sent to all-four wheels. Reading between the lines, you'll notice the 2.7-liter V6 isn't making a return for '24.
Controlling the wheels and tires is a set of MacPherson struts in the front with a short-long-arm suspension taking care of the rear wheels. Those wheels start out spanning 19 inches, but shoot up to 20-inch, 21-inch, and 22-inch wheels depending on model and options. In fact, there are two different 22-inch wheel designs, which means fans of large wheels have plenty to see. Dampening the bumps is an adaptive suspension that uses sensors that constantly take inputs from the vehicle's dynamics to help give you a smooth ride.
Of course, the most important part of this next-gen Nautilus might be on the inside. Featured prominently in the cabin is a mammoth 48-inch screen. This massive media screen does double duty and handles your instrumentation. Spanning the entire width of the dashboard, this big screen is actually a pair of 23.6-inch screens that work to give you all the essential information you need while driving and the not-as-essential information you might need to know, such as what episode of your favorite podcast is playing. Controlling that huge screen is another screen, this time spanning 11.1 inches and responds to your fingertip.
While this big screen doesn't currently show streaming content, Lincoln does use it for its new Rejuvenate system. This system operates only while stationary and is an attempt to take some stress out of passengers' lives. The system uses the screen to relay visuals and lighting while working with the sound system for an audio element. These combine further with scent cartridges to help complete the sensory experience. This might not be as soothing as a trip to the spa, but this system does tie in this Lincoln's massaging front seats to help bridge the gap.
Joining that big screen is an updated active driver assistance system. The Lincoln BlueCruise 1.2 now offers lane-change assist, which means the system will actively aid in your lane change while the system is engaged. While engaged, you simply turn on your turn signal in the direction of the lane change, and the rest is handled by the system. While this isn't exactly groundbreaking technology, it's good to see it added to Ford and Lincoln's BlueCruise system. Of course, along with the new lane-changing feature, the BlueCruise system still gives you hands-free driving when the system is engaged.
Wrapping this entire package up is a slightly larger shell. This '24 Lincoln is 3.3 inches longer than the current model. Helping visually shrink that length is a 2.0-inch longer wheelbase. The new Nautilus is also just over an inch wider than the current model. Though, the new model's total width with the mirrors out is actually slightly narrower than the outgoing model.
Lincoln says this new Nautilus will start hitting dealers early next year, though the automaker is happy to take your orders right now. This Lincoln will be built in the company's Changan Hangzhou assembly plant in China. There's no word on the price, but considering the addition of standard all-wheel drive, you can imagine the price will jump beyond the current $46,220 base price.
Do you think moving to China is a good move for Lincoln's mid-size crossover? Tell us your thoughts below.