Drives
Honda's CB650R Brings Back Middleweight Roots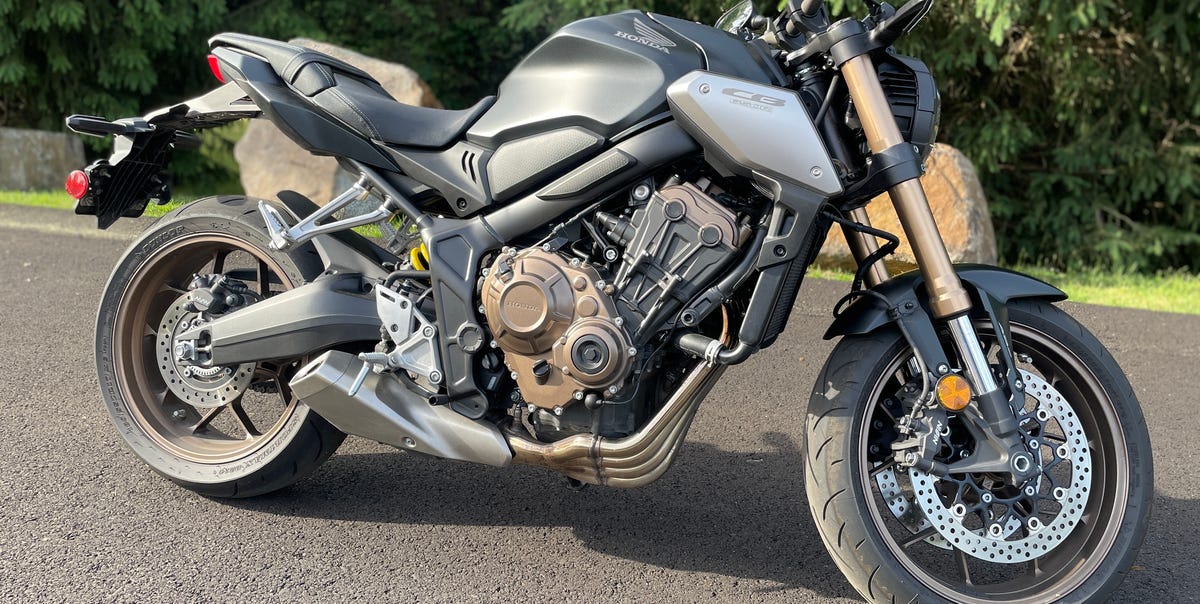 Honda has energized the middleweight class with the approachable and unique four-cylinder CB650R.
Providing a gateway for learning riders and affordable performance for the experienced, Honda aimed to create a democratizing bike for the motorcycling enthusiast and basic transportation alike.
Those looking for a neo-retro-styled bike with the highest performance of its class can look no further than the CB650R, starting at $9,899.
---
American motorcycling has long held the ethos of go big or go home. You can buy whatever bike you'd like right off the lot, having received your motorcycle license in paper form a mere two hours before. Moderation defies American conceptions and this carries over to the motorcycling world, where new riders end up on 1000-cc four-cylinder fully faired sport bikes and 900-pound Harleys, just because they can. In this way, like many, we are uniquely American.
Due to the relative lack of regulations in the US, the American market became a breeding ground for fast powerful bikes to sell at whopping rates. Throughout the early 2000s, every class of bike saw bumps in displacement and power. The 250-cc and 300-cc bikes were still manufactured but weren't in focus for most brands. Beginners predictably became disillusioned with the mediocre product offerings, and a gap formed between the docile 300-cc parallel-twins and intimidating 600-cc inline-fours. The middleweight class, a prolific segment of bikes throughout the '80s and '90s, also was ignored, creating a void where sales and comfort once flourished.
And that's where Honda has attempted to make up the difference. Starting around 2013, Honda added a class of bikes, under the CB/CBR moniker, that progressively worked their way up the displacement range: 300-cc thumpers to 500 parallel-twins to street-tuned 650 inline-fours to track-specific liter bikes. The company acknowledged that, at one point, most manufacturers weren't really focusing on more approachable, lower displacement motorcycles.
Honda's CB650R is designed to fill in the middleweight segment for those who want more performance in a comfortable, street-usable package. Capitalizing on the modern cafe racer and scrambler trend, Honda created a new line of "Neo-Sports-Cafe" models, the sort of retro-looking, vaguely off-road usable motorcycles that proliferate cafe parking lots from Williamsburg to Silver Lake along the Eastern Seaboard. Honda has been smart about this bike, shying away from creating an off-road adjacent styling exercise. Instead, Honda followed the philosophy that has created the company's popular image today: consistency.
Released in 2018 and turned retro in 2019, the CB650R is based on its fulled fairing sibling, the CBR650F, which was produced from 2014 to 2018. Produced as a gateway from the tempered power band of Honda's parallel-twins, the CB650R has a liquid-cooled 649-cc 30-degree inline-four, putting down 81 horsepower and 43 lb-ft of torque. The basic hardware includes a twin-spar frame with inverted Showa Separate Function Front Fork Big Piston and adjustable mono-shock in the rear; dual four-piston, radial-mount Nissin hydraulic calipers with 310-mm floating discs up front; and a single one-piston caliper with 240-mm disc out back. The bike sits on 17-inch wheels with a tire split of 120/70 and 180/55, respectively. Fed through a 6-speed transmission, MSRP for the 2022 model starts at $9,899 with destination and freight fees included.
The gem of this bike is its engine. Inline-fours are notorious for being raucous and delivering power only once you've wrung its neck, but this isn't the case here. Loosely developed from the CBR600F4i engine, it maintains the superior attributes of the inline-four platform, exploding into peak power at around 10,000 rpm before hitting the revolution ceiling at 14,000 rpm. It's plenty powerful for any backroad, canyon, or mountain pass, especially if you keep it above 8,000 rpm. It makes you work a bit for that top-end rush, but Honda tuned this bike so you never really need to.
What sets the CB650R apart is the shocking amount of consistent low-end and usable mid-range power, enough for 99% of riding needs. Rolling onto the throttle in 4th, 5th, or 6th gear below 3000 rpm provides an instant surge, with almost no delay in power delivery. While this can be partially attributed to the gearing, which is pleasantly close-ratio through 5th gear, it also speaks to the overall characteristic that Honda instilled in this bike: It will happily lope along. Because the power delivery is predictable, it solidifies Honda's middleweight as an approachable but uncompromising choice for a variety of riders. At 65 mph in 6th gear on New York State's Thruway, the engine rests at 4,500 rpm, meaning you can twist your way to triple-digit speeds in about seven seconds, allegedly.
Another highlight of Honda's neo-retro offering is its handling and ergonomics. In typical Honda fashion, the seating position and handlebar reach are well-tuned for a broad spectrum of riders. Gripping onto a handlebar with a modest rise and relatively narrow width, hairpin turns and low-speed maneuvers are a breeze, with an overall light steering weight. The foot controls are slightly rear-set, leading to a sportier riding position, with a slightly forward handlebar. It feels natural and eager to tip into a corner. As the riding pace picks up, the front end dares you to lean harder, and it grips hard. My only complaint is the sportier riding position and all-metal pegs, combined with the inherent open-air experience of a naked bike, lead to fatigue over the course of interstate jaunts.
The rear mono-shock is preload-adjustable with a spanner wrench. With a 30-pound tail pack, the rear was complaint through a mix of Hudson Valley backroads, two-lane highway, and interstate travel. I honestly didn't notice much about the rear end during aggressive riding, a sign of good tuning and paced riding. There is little dive during hard braking, and it flawlessly loads up the front end for trail-braking corner entry. The bike is stable over rough surfaces, remaining composed despite mid-corner bumps, and only lifts the front end slightly as you gain speed.
Honda has wisely kept the electronics simple on the CB650R. The LCD screen dash is simplistic yet modern, displaying a faux-analog tachometer, digital numerical speedometer, fuel gauge, and hefty gear position indicator, nicely displayed at a font size nearing the speedometer. Paging through the minimal data available will show miles per gallon in average or real time. There are no ride modes, no cruise control, and traction control you can switch off on the fly—just as it should be.
Engine braking is ample for most casual slowing, though the brakes are adequate if a bit spongy on the initial bite. Once you've set the pads though, the front brakes are powerful, shedding speed quickly and setting the momentum of the bike firmly forward. The rear brake is also strong enough for creeping and slowing through snarled traffic, and the brake bias is well set for dragging the rear during tight maneuvers.
Fuel economy is middle-of-the-road, with an indicated 47.3 mpg over a few hundred miles of highway, urban, and aggressive backroad riding. Sixth gear does feel like a useful overdrive, allowing for efficient freeway cruising across a varying range of speed limits. With a 4.1-gallon tank, owners can expect around 200 highway miles between fill-ups.
One area where the CB650R lacks feel is the shifter. Both the clutch and shift action are exceptionally light, making it hard to feel the friction zone or know if you're actually in gear if it weren't for the position indicator. Rowing up and down the gearbox lacks the satisfaction of a notchy click found on late-model motorcycles. But the relative ease of using the clutch and shifter makes the bike less intimidating for beginners.
Compared to the rest of the CB lineup, the middleweight feels the most solid. Obviously, the CBR300R is almost toy-like, though infinitely flickable, and the CB500X is the commuter special suited to adventure riding as needed, though the chassis share the same eager characteristics. In any sense, the CB650R represents a natural progression for newer riders, whether they started in the Honda family or not.
Starting below $10k, this middleweight competes with the likes of Yamaha's XSR700, Suzuki's SV650X, and Kawasaki's Z650RS. Competing for buyers swayed by unique styling, Honda's CB650R is the most expensive of the group, and also the most powerful. The Honda has the longest wheelbase of the pack (57 inches), lending itself to a more stable and less wheelie-prone architecture. Additionally, Honda's CB650R is the only four-cylinder bike in a class full of twins, though its hardware is otherwise in line with its competitors.
This bike has a mature character to it. That's not to say it lacks excitement—it just knows when and when not to show off its party trick. It welcomes in riders from across the skill spectrum while fully capable of attacking a mountain pass with a twist of the wrist and a millimeter more of counter-steer. Cruising at highway speeds is a comfortable, collected affair just as rolling through traffic comes with little effort. It would perform ably at a track day but has no inherent need to. It's exactly what a middleweight bike should be: approachable performance.