Drives
2021 Ducati Monster—It's Alive!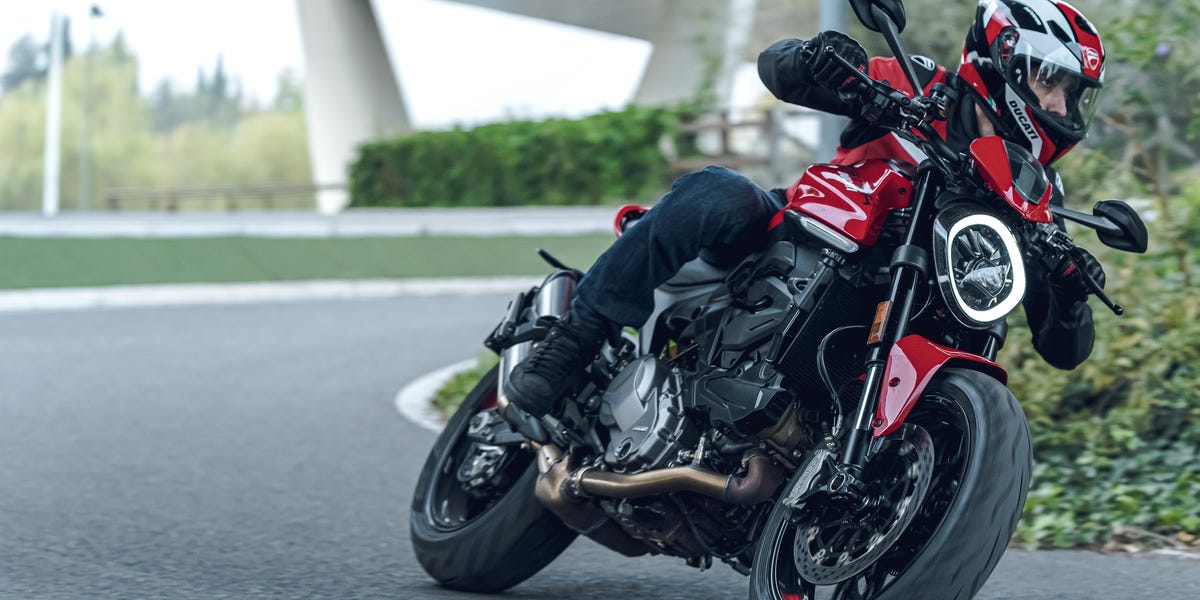 When the first Ducati Monster came out almost 30 years ago, it was revolutionary. Before that it seemed all street bikes had to be slathered in fairings, like it was some kind of global government mandate for the industrialized, motorcycle-producing world. People wanted fairings, was the conventional wisdom, and as a result, everything had fairings. But designer Miguel Galluzi didn't like fairings, at least not on everything. He kept trying to get his bosses at the Cagiva Group, which at the time included Ducati, to let him make something without any fairings whatsoever, something with an exposed frame, the bare essence of motorcycling. When he finally got permission to do so, he made the Ducati Monster M900 and the world freaked out.
That was 29 years ago.
With no bodywork and a relatively inexpensive 950 motore, that first Monster was even (relatively) affordable. Success! Everybody bought one. It was the bike that saved Ducati.
And so it went for almost three decades of Monsters, leading us here, to the latest generation. But there are distinct differences with this one. It is still lacking fairings, yes, so you're right there in the elements and the bugs. It still has a similarly sized engine to that original – the new Monster you see here has a 937-cc Testastretta L-Twin, making a twisting-good 111 hp at 9250 rpm and 69 lb-ft of torque at 6500 revs. And it is still relatively affordable (at least compared to superbikes) at $11,895.
---
---
Gone, however, is the exposed trellis frame, replaced with a lighter cast-aluminum frame very similar to that on the Panigale V4 that incorporates the engine as a stressed member of the bike instead of just baggage, a design that saves weight. The engine itself is 5.3 pounds lighter, but efficiencies throughout the bike save a total of 40 pounds versus the previous Monster 821.
There's a new, more upright and comfortable riding position, with the handlebars moved back almost three inches and the pegs a little lower. Seat heights range from 30.5 inches to 32.3 inches to accommodate any number of riders. There are three ride modes: sport, urban, and touring, and within those you can control how much intervention you want based on how aggressively you want to ride and how much electronic help you need to get there. To that end, you can adjust the cornering ABS, traction control, and wheelie control. There's even launch control. You adjust it all on a new 4.3-inch TFT screen that responds to gloved fingertips.
So it's 40 pounds lighter (414 pounds wet), a little more powerful (2 more hp, 6 more lb-ft), and still has the distinct look that sets it apart from everything else at Newcomb's Ranch or the Rock Store or wherever it is that you ride.
"The new Monster represents all the essence of Ducati in the lightest, most compact form," read a company release.
The essence, I would say, is "fun." A few times over the last several years I got to ride the previous Monster 821 and, apart from some weirdness with the front end where it didn't seem to want to return to straight coming out of turns, I loved it. The steering weirdness is gone on the new bike, thanks, perhaps, to seven degrees more steering angle to 36 degrees.
The new bike gets a new six-speed transmission with Ducati Quickshift, too. After leaving a stop you don't need to disengage the clutch to shift gears up or down, just bang on the shifter. That's a handy feature on your favorite mountain road.
Ah yes, favorite mountain road. Now I must preface this by saying I was totally spoiled by that Panigale V2 I had last year. That was a pure sport bike. While the Panigale seemed to do everything necessary to lure you deep into corners and then gently usher you out, Il Mostro takes a little more engagement on your part to be smooth. You have to plan your attack on each corner and execute it well before you have any kind of smoothness. You cool professionals will pick it up immediately. The rest of us must practice.
The Monster doesn't compete in the same class as the superbike Panigale. It's competition comes from the likes of the Yamaha MT-09 889-cc triple making 117 hp; the Triumph Street Triple with 765 ccs making 121 hp; the Kawasaki Z900 with 940 ccs making 125 hp; and the KTM 890R Duke with 889 ccs and 119 hp, to name a few. I haven't ridden the Triumph or the Duke, but I would say the Yamaha and Kawasaki are smoother on curvy mountain roads and the Monster might be a better street fighter.
Pricing for the Monster starts at $11,895, almost the same as the KTM 890R Duke and Kawasaki Z900. The Triumph Street Triple straddles that price with R and RS models, both offering just a few more horsepower and a little less torque. The Yamaha MT-09 is the bargain with more hp than the Duc and almost $2500 less sticker price. Still, a lot of people like the prestige of owning a Ducati. It's kind of like owning a Ferrari, if Ferraris were in the low five-figures.
So what should you do? I say, buy one of the above and start riding. You will not be disappointed with the Monster. You can keep it under your bed with all your other dreams.
Share your thoughts on Ducatis in general, Monsters specifically, or whatever Italian machines you may dream of in the comments below.